With an average age of 29.7 years, the Masters of Magic Gang is composed of a team of young professionals who, thanks to their work with Masters of Magic, have established themselves as a point of reference in Italy and worldwide, for live and TV events related to illusionism.
The avant-garde of contemporary magic shows. It is the point of reference in Italy and worldwide for live and TV events related to illusionism.
Born from an idea by Walter Rolfo in 2008, to date it has produced over 1800 shows and boasts more than 1350 artists in its network. The creative direction is entrusted to Alessandro Marrazzo, an internationally renowned director.
Masters of Magic has revolutionized millennia of the art of Magic by creating a new show philosophy: an internationally recognised excellence, founded in Valle d'Aosta, which has led to the production of shows, major events, educational moments and unconventional communication for the most important festivals, theaters, and major national and international brands.
In 2015, for the very first time in history in Italy, it organized the 26th Magic World Championship , the most important magic event in the world.

Walter Rolfo is the producer and creator of all the most important magic shows aired in Italy over the last 15 years. More than 650 episodes have been broadcast by Rai, Mediaset and SKY.
He is recognised as one of the most important producers of live and television shows related to magic in the world: this is why, in 2012 he was appointed by the FISM (Fédération Internationale de Sociétés Magiques) World President, organizer/producer and artistic director of the World Championship of Magic that, for the first time in history after 67 years, in 2015, was held in Italy.
He is also an honorary member, with Gold Star, of the Inner Magic Circle, in London, the most exclusive magic circle in the world of which only 300 artists and personalities of the planet are members including: David Copperfield and Prince Charles of England.
He received the "Golden Grolla" Award for his remarkable career and his constant contribution to the development of the knowledge of magic, and the "Wizard Throphy" Award for his great contribution to magic throughout the world.
He holds 5 Guinness World Records related to magic, including: the biggest magic event ever and the show with the largest number of magic artists.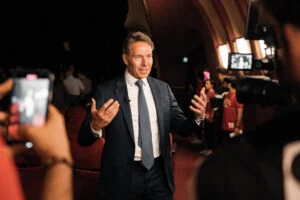 President: Walter Rolfo
Vice President: Marco Losito
Event Director: Alessandro Marrazzo
Artistic Directors: Walter Rolfo, Alessandro Marrazzo
Director of Production: Mario Baldantoni
Executive Producer: Giulia Zurro
Competition Board: Gianni Loria
Public Relations & International
Affairs: Luana Codignoni
ICC - INTERNATIONAL CONSULTING COMMITEE
The International Consulting Committee was created to bring together the finest thinkers in the Art of Magic, all closely connected with the history of the FISM. 
 They have combined their experiences and their passion to support FISMITALY2015.
Born in 2000 from an idea by Luis de Matos at the 2000 WCM in Lisbon, it has been carried out by Walter Rolfo for FISMITALY2015, with the intention of capitalizing on this extraordinary collaboration and creating an increasingly innovative FISM.
Some of the most illustrious artists of the contemporary scene made up ICC's
FISMITALY2015, forming a multifaceted team: great artists, engineers, directors and producers, because in Magic, nothing can be left to chance.
Also for FISM Europe Championship of Magic 2024 we will combine the best magic minds to help us and create the best ECM ever.
FISM – Fédération Internationale des Sociétés Magiques –  was created in 1948 and today consists of more than 97 magic societies, both national and international, as well as national Federations which represent over 70,000 magicians from some 49 countries.